Skip to Content
Our Team Can Relieve Car Accident Pain in Phoenix, AZ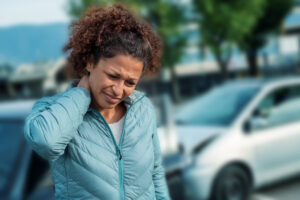 We Treat Injuries Due to Car Accidents at Our Facilities
If you have recently been in an automobile accident, you might experience pain, stiffness, and discomfort. Car accidents – even minor fender benders – can cause whiplash and joint and back injuries. Auto Injury Treatment Centers relieve car accident pain at our Phoenix and Gilbert, AZ clinics. We offer personalized treatment plans that focus on what makes each patient unique – resulting in better and more complete results. We always put our patients first, offering comprehensive examinations before we proceed to the chiropractic stages. We have got your back.
What I Whiplash and How Do I Know I Have It?
Whiplash often occurs following an automobile accident – especially during rear-end collisions. It happens when the structures in your neck, including the discs, ligaments, and muscles, are violently shaken. Whiplash has the potential to become a long-term condition – but it does not have to be that way. Chiropractic care is one of the best ways to reduce the pain and get rid of the condition. The whiplash signs include chronic pain, muscle spasms, decreased range of motion, headaches, a stiff neck, fatigue, anxiety, and sometimes memory disturbances. Most whiplash cases subside – with treatment – after a few days. However, some might linger for a few months, and others can last for over a year. Our team can help relieve the pain from whiplash regardless of how long you have had the condition.
Is Chiropractic Care an Effective Auto Injury Treatment?
Yes. Auto Injury Treatment Centers has a team of experienced chiropractors who understand how to use their expertise to reduce pain following an accident. Chiropractic care represents a long-term solution to chronic pain that painkillers do not. We recommend visiting one of our 45 locations following the pain's first occurrence – for insurance and comfort-level reasons.
I am Not in Pain, But I Do not Feel Normal Either. What is Happening?
Car accidents are traumatic in more ways than one. The body experiences a massive adrenaline surge following an accident, and it can last for some time. The problem is the adrenaline masks the pain and signs of many of the most common conditions caused by car accidents – such as whiplash. If you feel something is not right, then you are probably right. In many cases, pain and discomfort will follow. That is why it is so critical to visit Auto Injury Treatment Centers immediately – even if you are not experiencing pain. Getting ahead of the situation is essential.
How Do Your Chiropractors Resolve Injuries?
It depends on what condition you suffer from presently. We use several techniques to reduce pain following car accidents. Our chiropractors understand how to use their skills and apply them to each patient's unique situation. We generally treat three common conditions following an automobile accident. They are:
Whiplash: As referenced above, whiplash is the most common injury that occurs during car accidents. One of the reasons is many accidents are rear-ended collisions, and whiplash occurs when the body jerks forward and stops suddenly. We use various treatment methods to reduce stiffness and pain in the neck, shoulders, arms, and upper and lower back.
Joint Injuries: Joint injuries are another common type of injury that can develop into long-term arthritic-like conditions. You might notice a lack of mobility or pain when you walk or use your arms. Our chiropractors can restore range of motion and relieve the pain.
Back Injuries: Back injuries are tricky, but our chiropractors know how to treat them. Herniated discs, fractured vertebrae, sprains, and strains all occur after car accidents – especially violent ones. Any damage to your spine will cause back pain and disability, but a chiropractor can prevent the pain from becoming chronic and lifelong.
How Long Will My Injuries Take to Heal?
There is no easy answer to that question because it depends on the severity of your injuries. For example, you might suffer from both whiplash and a joint injury – which we tackle differently. We can promise a personalized approach to your conditions designed to restore you to full and optimal health. Our chiropractors will be honest with you as they make adjustments and keep you appraised of their treatment plan. We recommend that you continue to heed your doctor's prescribed treatment because chiropractic care is an excellent complement to medical care. You will feel better soon!
What Makes Auto Injury Treatment Centers Unique
Every person's body is different, and injuries impact individuals differently. One of the things that make us unique is our willingness to get to know our patients and learn what will help treat their condition. We also understand that some chiropractic care elements might seem unfamiliar to some patients. So, we carefully explain what we are going to do before we do it. We offer excellent treatment and work directly with your auto insurance provider to provide care in the aftermath of your car accident. Most importantly, we do not require health insurance. All you have to do is schedule an appointment at one of our locations, and you will be on your way to full health again. Contact us today to get started!